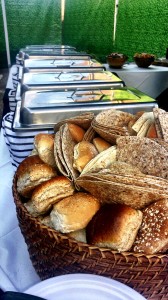 The Hog Roast Leicester team may not have been around for as long as the ancient art of hog roast cooking itself, but we have been practicing and perfecting this fantastic cooking method for many years and we have become true connoisseurs of our craft. The secret to cooking the perfect hog roast is time, patience and allowing the natural flavour and texture of the meat to be the main focal point, rather than overcomplicating it with too many different additional ingredients. Our traditional hog roasts may be our pride and joy, but we can also provide complete menus to suit any occasion, with varying degrees of complexity and style depending on your budget and what type of event you are hosting.
Varied Menus To Suit Every Guest
Our food can even be enjoyed by people who don't like pork, or even don't eat meat at all, as our varied and well-conceived menus cater for everyone's tastes and needs. You will be spoilt for choice with our range of alternative meats, such as beef, chicken, lamb or turkey, and if you are a non-meat-eater, you will be pleasantly surprised when you peruse our imaginative vegetarian options.
Whatever menu options you go for, we can guarantee that every single ingredient is ethically sourced from the local area and absolutely nothing we provide will be pre-made or bought in from elsewhere.
One of our unique selling points is our commitment to freshly preparing everything at your chosen venue, including canapes, starters, salads and desserts. We are very proud of the superior quality of our food and service, and equally proud of our dedicated team of people who work tirelessly both on-site and behind the scenes to make it all happen.
Catering For All Events And Locations
It is impossible to name all of the types of events that our catering services are suitable for, because the list is endless. For the Hog Roast Leicester team, no two days are the same and we are just as comfortable catering for large weddings in the landscaped gardens of a plush hotel, as we are providing informal buffets for private parties in your own home. It's what our customers learn about us, that our services are incredibly diverse.
We produce equally stunning results when we cook indoors, whether it be in the function room of a local pub or supplying one of our increasingly popular corporate menus for a company conference. Because our team is so versatile, our hog roast machines are so mobile, and our menus are as diverse of the city of Leicester itself, we can provide excellent food for any event in any location.